Hardness Testing Machine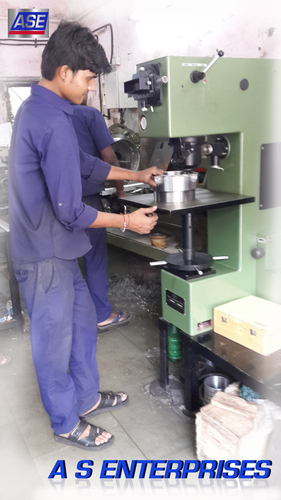 Hardness Testing Machine
Product Code : 022
Brand Name : A S ENTERPRISES
Hardness Testing Machine

Hardness is a characteristic of a material, not a fundamental physical property. It is defined as the resistance to indentation, and it is determined by measuring the permanent depth of the indentation.

More simply put, when using a fixed force (load) and a given indenter, the smaller the indentation, the harder the material. Indentation hardness value is obtained by measuring the depth or the area of the indentation using one of over 12 different test methods.

Hardness testing is used for two general characterizations:

Material Characteristics

Test to check material
Test hardenability
Test to confirm process
Can be used to predict Tensile strength
Functionality:

Test to confirm ability to function as designed.
Wear Resistance
Toughness
Resistance to impact
Hardness Testing Considerations:

The following sample characteristics should be consider prior to selecting the hardness testing method to use:

Material
Sample Size
Thickness
Scale
Shape of sample, round, cylindrical, flat, irregular
Gage R & R
Material:
The type of material and expected hardness will determine test method. Materials such as hardened bearing steels have small grain size and can be measured using the Rockwell scale due to the use of diamond indenters and high PSI loading. Materials such as cast irons and powder metals will need a much larger indenter such as used with Brinell scales. Very small parts or small sections may need to be measured on a microhardness tester using the Vickers or Knoop Scale.

When selecting a hardness scale, a general guide is to select the scale that specifies the largest load and the largest indenter possible without exceeding defined operation conditions and accounting for conditions that may influence the test result.


Contact Details
A S ENTERPRISES
Shiv Sai Compound, Ambika Nagar, No 2, Rd No 29, Opp. Natu Plastic Pvt Ltd, Wagle Estate, Thane (W), Thane - 400604, Maharashtra, India
Phone : +917042342257
Mr. Shatrugan Chauhan (Proprietor)
Mobile : +917042342257
| | |
| --- | --- |
| | A S ENTERPRISES All Rights Reserved. |